The handyman came on Wednesday to fix my zapped kitchen light fixture, which had been out for two weeks. Let me tell you, it's not pleasant to cook by the wimpy, grease-encrusted stove light. However, it did mean that I'd been leaving off washing dishes till morning, which was pleasant!
We engaged in small talk, because it's always awkward to have a stranger in your house, chopping away at wires without turning the electricity off first. You want to know something if you have to call the fire department or an ambulance...Somehow, I mentioned that we were expecting and going to cloth diaper. Maybe it was in reference to the new washing machine we're getting, one that will actually follow through on a full wash cycle. It's not important how we got there, only that this made the young handyman really, REALLY excited.
"OH my goodness, you must talk to my wife!" he exclaims, then spiels off into the exorbitant cost and waste of disposable diapers. Apparently, women like me are one in a million in Brazil. Of course, after seeing the cost of cute, Brazilian-made pocket diapers like
these
at a whopping R$45 apiece, it's not hard to see why Brazilians are slow to jump on this bandwagon. (I did find more economical ones
here
and
here
.) It's a hefty upfront cost, and the bulky diapers our mothers put us in, while economical, did have a distinct tendency to leak. And plastic pants might be fine in air conditioned environments, but I think it might permanently damage a child to be boiled like that in 98 degree temperatures.
I want to cloth diaper because I hate unnecessary waste, because it's more economical, better for the environment and better for the baby. Also, they're darned cute!
Since I have the benefit of visitors coming soon after the baby arrives, I'm opting to import most of my cloth diapers. We don't have hot water in our washing machine or a dryer, so I've had to guesstimate up on the number of diapers we'll need. Most lists suggest you'll use 12-14 diapers a day for newborns, and only slightly less for older babies, plus a nighttime solution. Add in a longer drying time and washing every other day, and I'm guessing we'll need about 3 dozen minimum, in sizes that will grow with baby.
Never a fan of velcro tabs, we opted for snaps whenever possible, and I've chosen a little bit of everything available, as lots of mothers mention that some diapers worked better than others; it all depends on the baby! (I figure I can gift or resell those that don't work out for us.) At the moment, this is my list (some I have, some I'm contemplating):
All in Ones:

12 Bum Genius 3.0 (I bought these on Ebay for a great price off a mom who apparently didn't like cloth diapering!)
Pockets:

1 Canadian Flag design diaper to encourage husband participation
6 Sunbaby Diapers (3 size 1, 3 size 2) coming from China
1 Fuzzibunz
A couple of Happy Heinies (like the picture) from an expat mum
Fitted:

1 Basic cloth diaper
2 Kiwi Pie or Bumboo one size
Covers:

1 Flip cover
1 Rumparooz cover
4 Econobum cover
(p.s. While I was researching this post, I discovered that
this site
is currently selling buy one, get one on Flip covers!)
Extras:
3-6 doublers
2 dozen prefolds (because they have so MANY uses)
3 Snappis
a roll of flushable liners
cloth wipes for the wipes warmer
Some wet bags for the diaper bag/travel
A big trash can for storing
A bucket for soaking
An extra laundry drying rack
We'll wash with coconut soap, vinegar, baking soda, etc as fancy washing powders just aren't available, so that cost will be minimal.
I figure the total outlay up front will be about US$500 when you add in the extras and the cutsy diapers we will buy purely because they're so dang adorable. Like
this one
, from an Etsy seller, which is made of the softest material ever.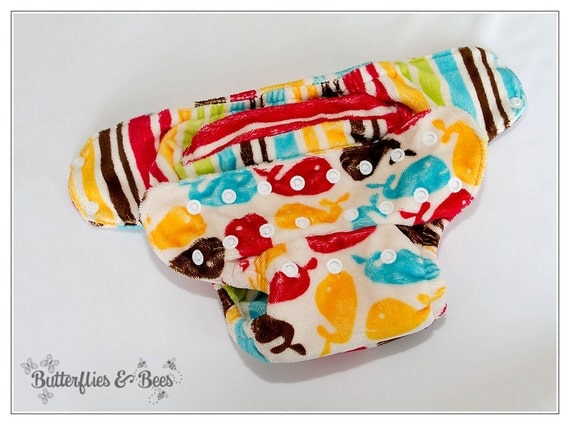 You just want to rub it against your face (I did this when a friend gave me the tour of her diaper stash!). I'm doing mostly gender-neutral colors/prints, so when we decide to expand the family, we can use these again...so we get to amortize the cost over years and years!
So, veterans of the cloth, am I missing something here? Am I going overboard? And to the rest of you who grimace and make the poop face: We are fully aware that babies poop and that we will have to wash it out. We live in Brazil; if there's no bidet, there's a sprayer next to the toilet, so we don't even have to shake the nastiness off. Spray, baby, spray!